Hi, y'all! Did you miss my new Ravelry ebook release, ShadeTree? Hit the pause button on this post, go read all about ShadeTree Artist Collaboration, Issue 1, then come right back.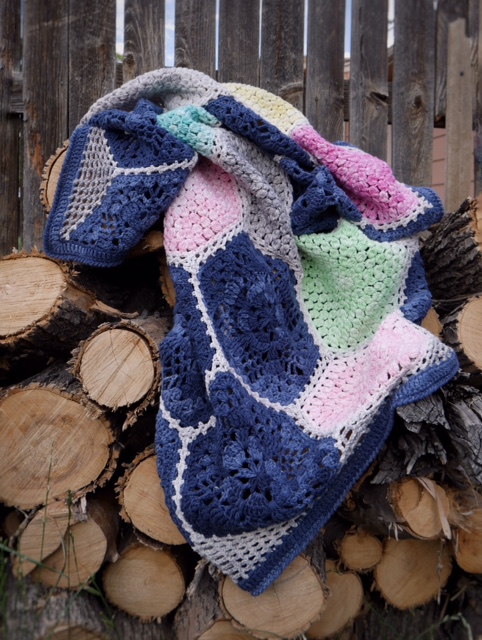 Indigo Blossom Blanket Details
Price: $5 individually, but just $3 when full eBook is purchased! (Download individually here)
Special Technique: Flat Braid Join as you go – see below
Description: Large floral hexagon motifs, mixed in with dramatic lace hexagons for a unique blanket.
Yarn: Scheepjes Softfun*
Credits: Sample blanket and photography by Makenzie Pearson of BQueen Collection. Note: Every photo in this post was taken by the talented Makenzie Pearson. Thank you, Makenzie!
Behind the Scenes

Inspiration
The Indigo Blossom Blanket was inspired by photographs of flowers laying on top of indigo dyed cloth napkins – by Jessica Wilkinson of IG @VanillaLemonCake. I knew instantly when I saw Jessica's photos that I would want to make a blanket inspired by the contrast of the flowers on the indigo color.
Blanket Pattern Design
I chose a yarn that has a watercolor quality to it – Scheepjes Softfun Aquarel – for the "flower" hexagons, and then the Softfun Denim in a dark blue for the lacy hexagons. The lace look of the blue hexies is in contrast to the petal stitches of the flower ones.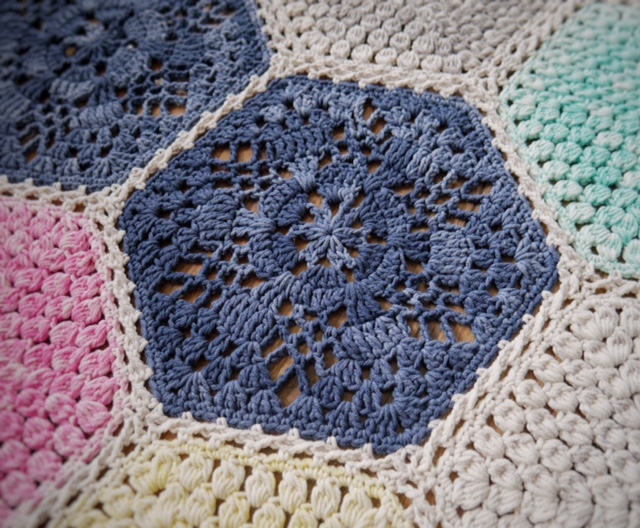 Yarn Choice

Layout Design
When I sat down to design Indigo Blossom, I wanted large dramatic motifs. There was a large, lacy hexagon that I had in my design vault, waiting to be used, and I found it was perfect for this pattern! With a few tweaks, it fit right in. Then, designing the flower hexies was easy, as I knew I just wanted a simple and repetitive pattern.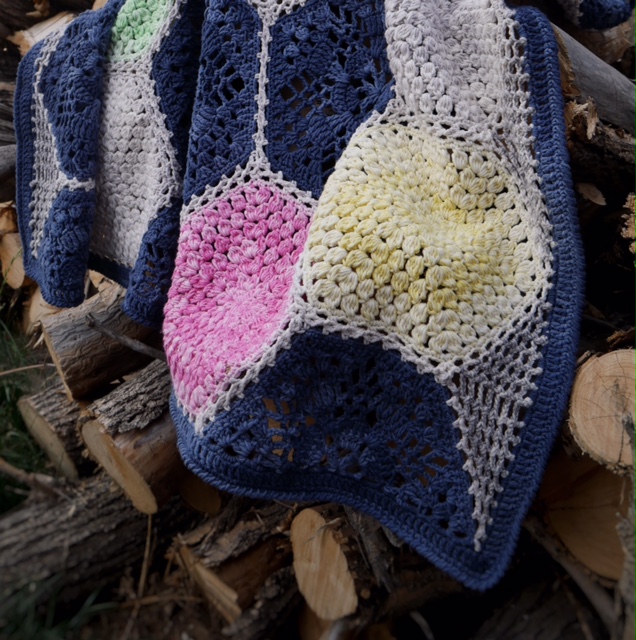 Flat Braid Join Video Tutorial
Finished Blanket
And here it is, y'all! The finished piece!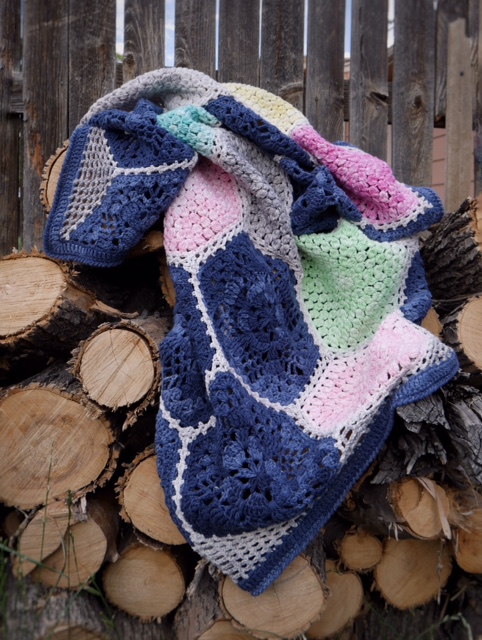 I hope y'all enjoyed this deep dive sneak peek into everything that went into the Indigo Blossom blanket pattern. Happy crafting!
Rachele C.
*Disclosure: This post has affiliate links marked with an asterisk. Shopping through these links helps support CypressTextiles and doesn't cost you anything extra! Yay!